Al-Shabaab Muslim Terrorists Kill US Commando
Staff Sgt. Alexander Conrad and wound 4 more in Somalia as Al-Shabaab Threaten US Malls for Attack, Florida Somali Refugees Need Vetting. How many Somali refugees in Florida are ready to die for Allah in a suicide attack on your neighborhood mall? How many of the thousands of Somali refuges in Florida have been completely vetted and vouched for no links to the terrorist group Al-Shabaab?
A report by the Department of Homeland Security's office of immigration statistic shows that Florida is among the top five refugee destinations in the United States. The first four states are, in that order, Texas, California, Michigan New York and then Florida. The top five countries of origin of these refugees include, in that order, Iraq, Burma, Bhutan, Somalia and Cuba. Since 2002, 46,716 refugees from 60 countries have resettled in Florida. Since 2002, 101,414 refugees from Somalia have resettled in the United States, following is a breakdown of Somali Refugees in Florida, Tampa is top heavy with 355.
Tampa
Somalia: 355
Bradenton
Somalia: 12
Clearwater
Somalia: 23
Doral
Somalia: 10
Jacksonville
Somalia: 79
New Port Richey
Somalia: 14
Orlando
Somalia: 38
Saint Petersburg
Somalia: 74
Tallahassee
Somalia: 19
US Central Command Tampa runs Special Operations Group (SOG) and Navy SEALs Targeting Somalia Al-Shabaab Terrorist Leaders for Termination. PAYBACK Oct. 3, 1993: A failed operation to capture warlord Mohamed Farrah Aidid in Mogadishu, Somalia, led to the deaths of 18 Army Rangers and Delta Force special operations soldiers, an incident recounted in the book and movie "Blackhawk Down." Africa (Somalia) has seen the most significant increase in Special Ops deployments. In 2006, the figure for that continent was just 1 percent, as 2017 ended, it stood at 16.61 percent. In other words, more Special Ops commandos are operating there than in any region except the Middle East. On March 6th, 2016 U.S. special operations forces participated in a military raid in southern Somalia overnight, defense officials told NBC News. The raid comes just days after the Pentagon said a massive U.S. airstrike killed more than 150 members of the al-Shaabab terror group in the east African nation. The involvement of U.S. forces in Somalia has been a sensitive subject since the deadly 1993 "Black Hawk Down" operation, in which 18 American troops were killed when helicopters were shot down by militants.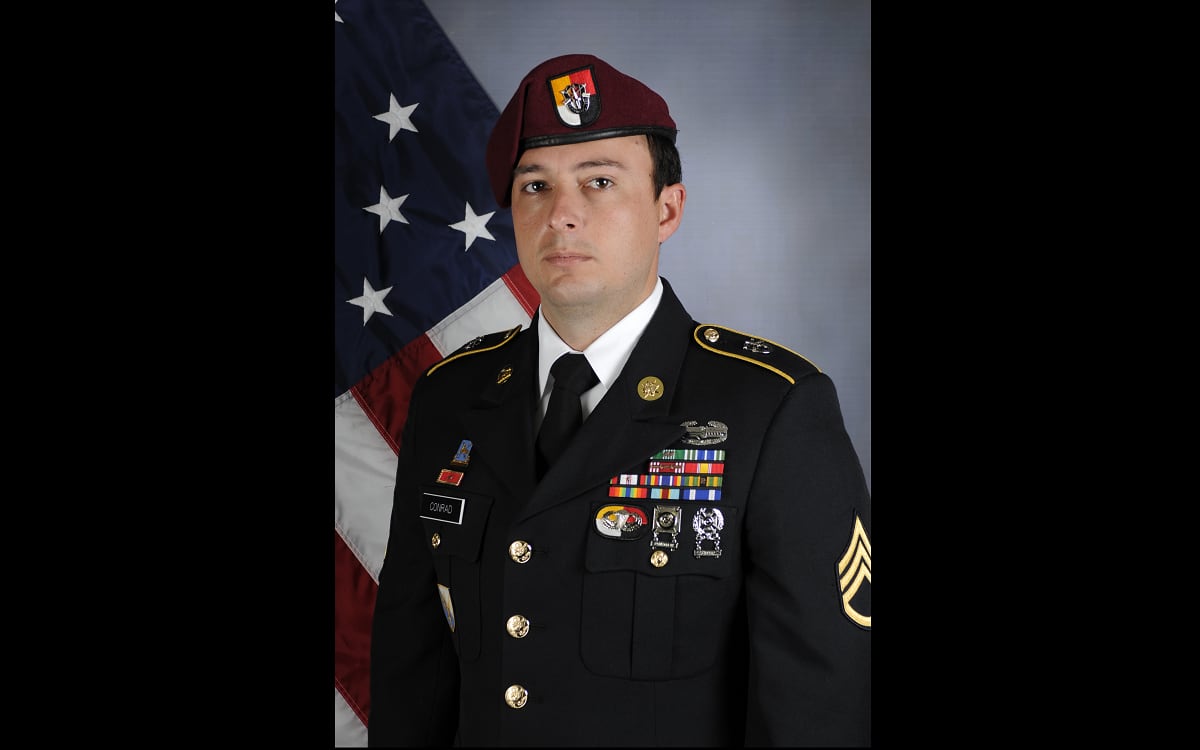 One US special operations soldier was killed on
Friday June 8th, 2018

in an attack in Somalia that also wounded four other US commandos and a member of a multinational force fighting al-Qaida linked al-Shabab militants, the US military said on Friday.
The Pentagon on Saturday released the name of the special operations soldier killed in an attack in Somalia.
Staff Sgt. Alexander Conrad, 26, was assigned to 1st Battalion, 3rd Special Forces Group. He was killed by enemy indirect fire, according to the Pentagon announcement.
Conrad was supporting Operation Octave Shield, according to the Pentagon.
Four other U.S. troops and one partner force member were wounded in the Friday attack. The US commando was killed in a clearance operation targeting al-Shabab in Somalia. About 500 US commandos support Somali and African Union troops battling the al-Qaida linked group. A force of about 800 Somali and Kenyan troops backed by US Special Forces were conducting a military operation in the southern Jubaland area when it came under attack on Friday by al-Shabab, the US Africa Command said. "We attacked a military base ... killed one U.S. soldier, two Kenyan soldiers and nine Somali soldiers from Jubbaland state. We also injured four U.S. soldiers," Abdiasis Abu Musab, al Shabaab's military operations spokesman, told Reuters on late Friday.
Somali terror group al-Shabaab has been calling for an attack on Mall of America Bloomington, Minn. The al-Shabaab video shows 6 minutes of graphic images celebrating the Westgate Mall attack – an attack the narrator makes perfectly clear he'd like to duplicate in Minnesota. "What if such an attack were to occur at the Mall of America in Minnesota?" the narrator says. "This is gonna happen," said Omar Jamal, CEO of American Friends of Somalis. "The question is where it's going to happen and when it is going to happen. That's why we need people to be informed about this."
Al Shabaab strikes again following Friday June 8th, 2018 attack that killed US commando. A suicide car bomb explosion at a military base in Somalia injured seven soldiers late Saturday, a military official said, and Islamist group al Shabaab claimed responsibility for the attack. Al Shabaab fights to topple Somalia's western-backed central government and impose its a rule based on its own strict interpretation of Islam's Sharia law. Major Hussein Ali, a Somali military officer told Reuters the attack took place at a military base just outside the town of Kismayu in Southern Somalia. The assault was on the same base where a U.S. soldier was killed in an attack late on Friday. Al Shabaab claimed responsibility for the Saturday attack and said they killed 40 Somali soldiers. "We killed 40 Somali soldiers in the base," Abdiasis Abu Musab, al Shabaab's military operations spokesman, told Reuters. Al Shabaab is also fighting to drive out African Union mandated peace.
Somalia Al-Shabaab Inspired Terrorist Ali Muhammad Brown Admits to Killing 4 in USA For the Cause of 'Jihad'. The man accused of killing Livingston NJ native Brendan Tevlin three years ago in a terror-inspired slaying abruptly pleaded guilty during jury selection Tuesday to fatally shooting the Seton Hall Prepatory School graduate at a traffic light in West Orange. During the same hearing, Ali Muhammad Brown, 34, of Seattle, Washington, admitted killing three other men in the Seattle area as part of a jihad-inspired wave of violence.
In a journal found after his arrest for killing a New Jersey college student, Ali Muhammad Brown (left) wrote he sought rich victims to fund his terrorist activity, according to a recent court filing by the Essex County Prosecutor's Office. "Save all monies for hijra," read an entry, using a term that is associated with foreign fighters joining ISIS. "Find luxury apartments surrounded by forest. Make sure to take everything including watches, rings, necklaces, jewelry, cash, etc."
ISIS and Al-Shabaab Terrorists Train in Somali With Eye on USA With Car Bombs.

Al Shabaab has vowed to escalate activities this year after both U.S. President Donald Trump and Somali President Mohamed Abdullahi Mohamed announced new measures targeting the group. The ISIS-Somalia group (ISS) began as a small 20-strong splinter from the Al-Shabaab movement under

Sheikh Abdul Qadir Mumin

and his deputy Mahad Moalim, but has grown in strength and imported arms from Yemen.

Sheikh Abdul Qadir Mumin

was formerly a senior religious authority in al-Shabaab. The Islamic State in Somalia (short: ISS) or Abnaa ul-Calipha is an Islamic State of Iraq and the Levant-affiliated group that primarily operates in the mountainous areas of Puntland, though has also claimed responsibility for several terrorist attacks throughout the rest of Somalia. Led by Sheikh Abdul Qadir Mumin, the group is estimated to have up to 300 active fighters.

On 22 October 2015

Sheikh Abdul Qadir Mumin

pledged allegiance to Abu Bakr al-Baghdadi and the Islamic State, creating the "Islamic State in Somalia". Abdul Qadir Mumin used to be a key recruiter and facilitator for the al-Qaeda affiliated Al-Shabaab in Somalia after fleeing his home in South London. He became one of the few high profile al-Shabaab figures to switch his allegiance to ISIS and has since fled with a small band of jihadis to the remote mountains in Puntland.

At a two-day conference in Washington that concluded Wednesday, the US State Department designated seven ISIS-linked groups as terrorist threats -- underlining the reach of the network. The ISIS group's former stronghold in its so-called "caliphate" in eastern Syria and northern Iraq has been all but destroyed by US-backed military operations, but the militants are adapting. And, with overt military targets harder to find, the next stage in the fight against the extremists will lean more heavily on law enforcement and civilian prosecution of suspected militants. "I think what we're seeing is ISIS becoming increasingly decentralized," said the State Department's counterterrorism coordinator, Nathan Sales, who addressed the meeting.
"ISIS is evolving and adapting," he said, explaining the decision to blacklist the ISIS regional groups under separate designations.

March 1st 2018..
Al-Shabaab, the al Qaeda-aligned militia in Somalia, is experiencing some of the most successful months of its recent history. Two car bombs killed at least 18 people and wounded around two dozen more in Somalia's capital, Mogadishu, on Friday before militants assailed a pair of buildings near the presidential palace. Ambulances arrived immediately on the scene to bring the wounded to the hospital. One suicide car hit a hotel close to the presidential palace. Armed militants reportedly stormed the building after the car exploded. The second car exploded near another government building a few minutes later. Social media users posted videos of the explosions, which showed white clouds of smoke rising above Mogadishu's buildings.
(CNN).The jihadist group Al-Shabaab claimed responsibility for a bomb blast on a Somali passenger plane -- an explosion that authorities say killed only the alleged bomber. The Daallo Airlines plane, which took off from Somalia's capital bound for Djibouti on February 2, landed back in Mogadishu despite the blast, which Somali authorities say was caused by a laptop computer containing a bomb.

Source: 'Sophisticated' laptop bomb on Somali plane got through X-ray machine. At the time of the blast, the Daallo plane was estimated to between at an altitude of 12,000 to 14,000 feet after taking off from Mogadishu International Airport. Investigators suspect the attacker, a Somali national, carried the laptop computer with a bomb in it onto the flight, a source close to the investigation told CNN. The bomber knew precisely where to sit and how to place the device to maximize damage, the source told CNN. Given the placement, the blast likely would have set off a catastrophic secondary explosion in the fuel tank if the aircraft had reached cruising altitude, the source said.


Bill Warner wbipi@verizon.net Bill Warner Private Investigator Sarasota 941-926-1926 - SEX, CRIME, CHEATERS & TERRORISM at www.wbipi.com