In the Bradenton Herald Newspaper on October 18th, James T. Goldn Fl House District 73 says

Joe Gruters lacks requisite judgment to represent us and his support of Trump should set off alarms but Attorney James T. Golden was up for disbarment in 1990 and he tys to hide this from the voters.

The Bradenton Herald allows candidates who did not receive the Editorial Board's recommendation the opportunity to respond. Candidate James T. Golden claims Joe Gruters not fit to represent all of us in Florida House Seat, what the hell? Attorney James T. Golden Dem Candidate District 73 Florida House of Rep Was Suspended for 90 Days by Florida Bar in 1988 Who Then Sought his Disbarment in 1990. James T. Golden was supposed to be an officer of the Court, he borrowed money from client and did not pay back the money for over a year, he took money from a client and tried to represent the client in Manatee County Court when Golden had already been suspended by the Florida Bar, Golden had repeated complaints and public reprimands and yet he has the nerve to claim "Joe Gruters lacks requisite judgment to represent us", your bull crap James T. Golden. According to the Public Bio posted for James T. Golden he received his Juris Doctorate degree in 1974. Admitted to the Florida Bar in 1975 and James T. Golden was a practicing attorney until he felt the call of a different vocation in 1981, according to his bio he stopped practicing law in 1981 on his own accord but he was suspended in 1988 by a court order and faced disbarment in 1990. James Golden did not stop practicing law in 1981, this is a lie, more bull crap from James T. Golden.
In the Bradenton Herald Newspaper on October 18th,

James T. Golden, Florida House, District 73 Says: Apparently you endorsed Joe Gruters for House District 73 because he is more conservative than I am. This is a slap in the face to voters who value substance and competence over labels. As Sarasota GOP chair, he led efforts to honor Donald Trump as "Statesman of the Year" twice. Trump is described by Steve Schmidt, a respected Republican strategist, as "manifestly unprepared for the duties of the office of the President of the United States, who has no idea what he is talking about from a policy perspective, who lacks the requisite dignity required of someone who wishes to be the head of state of the government of the United States, and someone who lacks the capacity to be the commander in chief of the most powerful military and the world's most potent nuclear arsenal." Further, Schmidt described Trump's candidacy as a "disgrace to the country" which exposes the "intellectual rot in the Republican Party." Mr. Gruters lacks the requisite judgment to represent all of us because he has said that he looks forward to a third "Statesmen of the Year" honor for Trump should he become president. Mr. Gruters' belief in the policies of Donald Trump should set off alarms for voters. As presidential nominee, Trump has gone from conservative outlier to divisive and demeaning demagogue, and, if elected, is bound to cause lasting damage to the fabric of this nation. It's troubling that Mr. Gruters fails to recognize the destructiveness of Trump and dangerous that he provides him with unwavering support, even now, as Trump's Florida campaign co-chair.
Attorney/Pastor/Politician James T. Golden is the Democrat Candidate for District 73 Florida House of Representatives in the November 2016 Election. Attorney James T. Golden was suspended from the Florida Bar for 90 Days by the Supreme Court of Florida in 1988 and in 1990 the Florida Bar sought his disbarment. According to the filing of the Supreme Court of Florida, attorney James T. Golden was accused of Dereliction of Duty in a Malpractice case in Manatee County and did not file an amended Complaint for his client in a timely matter, again and again. On October 24th, 1988 attorney James T. Golden was suspended from practice as an attorney for 90 days and was fined $1,331.41 with a stipulation that upon paying the fine James T. Golden will be on probation for 1 year, so says the Supreme Court of Florida., see http://archive.law.fsu.edu/library/flsupct/70497/op-70497.pdf
Despite his Suspension and Probation James T. Golden continued to practice law in Manatee County Fl. On February 21, 1989 the Florida Bar filed its Motion For Order to Show Cause, see http://archive.law.fsu.edu/library/flsupct/73747/73747ans.pdf
The Florida Bar v. Golden 563 So. 2d 81 (1990)
THE FLORIDA BAR, Complainant, v. James T. GOLDEN, Respondent.
Supreme Court of Florida. May 31, 1990.
Rehearing Denied July 26, 1990.
John F. Harkness, Jr., Executive Director, and John T. Berry, Staff Counsel, Tallahassee, and Jan Wichrowski, Bar Counsel, Orlando, for complainant. Richard T. Earle, Jr. of Earle and Earle, St. Petersburg, for respondent.
PER CURIAM. In this proceeding we are concerned with whether Golden practiced law while under suspension and, if so, the determination of appropriate discipline therefor. We have jurisdiction. Art. V, § 15, Fla. Const. On September 22, 1988 this Court suspended Golden from the practice of law for ninety days, beginning October 24, 1988, and until paying the costs of the proceeding. The Florida Bar v. Golden, 530 So. 2d 931 (Fla. 1988). We also placed Golden on a one-year probation to begin upon his reinstatement, but, although we usually do so, we put no restrictions on Golden's securing new clients during the thirty-day hiatus between the filing of our opinion and the beginning of his suspension. On October 16, 1988, prior to the effective date of the suspension, a man contacted Golden about representing him on two separate traffic offenses. Golden agreed to represent him for a fee of $1,800 ($900 per case). The client paid him $600, and Golden drafted and filed two pleadings: a "written plea of not guilty, waiver of personal appearance" for one offense and a request for a continuance" for the other offense. The client signed the pleadings as pro se and, approximately two weeks later, paid Golden an additional $200.
On December 16, 1988 Golden arrived in Manatee County Court with his client, and the presiding judge notified Golden that he was aware of Golden's suspension and asked him to leave the courtroom. The bar thereafter filed a motion for order to show cause why Golden should not be held in contempt for failing to abide by his suspension. Golden contends there is no clear and convincing evidence that he practiced law while suspended. We agree that his practice was minimal, but declare that counseling and attempting to assist his client in requesting two continuances constituted the unauthorized practice of law. It appears that Golden shut down his office because the client unsuccessfully sought to find him there. There is a dispute in the testimony on whether Golden told the client he had been suspended for ninety days. Golden claimed he did while the client testified otherwise. The referee found that Golden had not notified this client of his suspension. We also note that there is no evidence that Golden furnished his clients with a copy of the order of suspension as required by rule 3-5.1(h), Rules Regulating The Florida Bar. Although the bar initially requested a ninety-one-day suspension, the referee recommended a one-year suspension due to the seriousness of Golden's failure to abide by his suspension, failure to inform the client of his suspension, failure to refund the $800, lack of remorse, and his lengthy history of past disciplinary actions. The Florida Bar v. Golden, 530 So. 2d 931 (Fla. 1988) (ninety-day suspension); The Florida Bar v. Golden, 502 So. 2d 891 (Fla. 1987) (ten-day suspension); The Florida Bar v. Golden, 401 So. 2d 1340 (Fla. 1981) (public reprimand).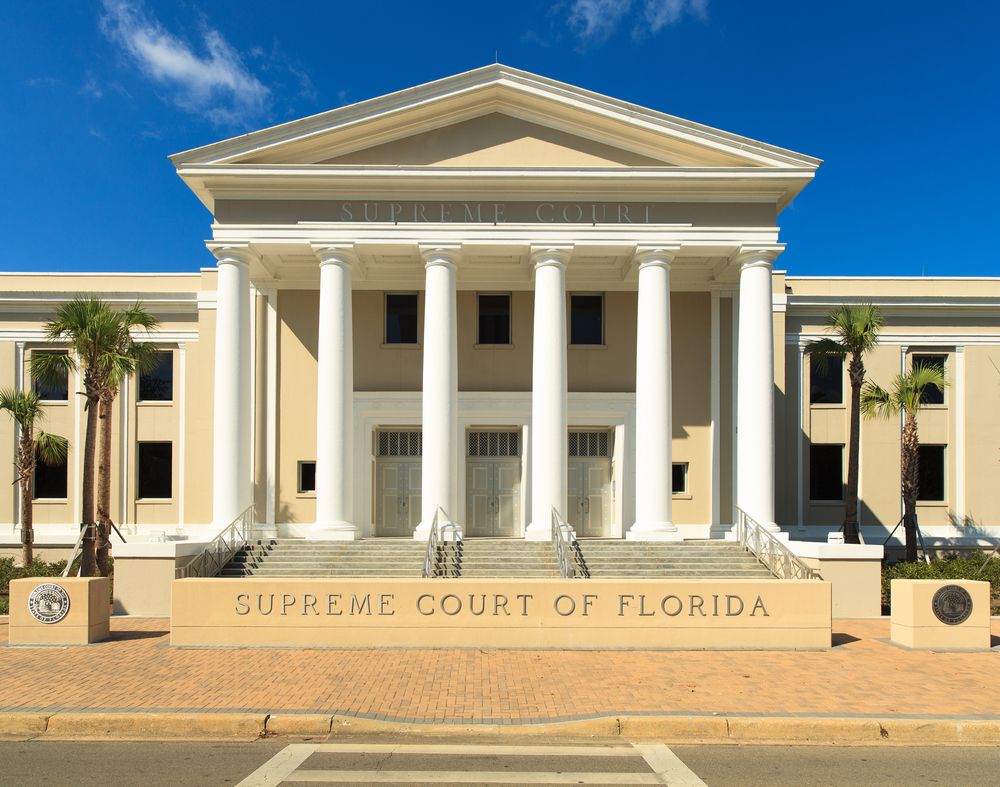 Supreme Court of Florida Ruling: We believe the referee's recommendation is appropriate and should be approved. Had Golden's practice been more direct or more substantial, we would agree with the bar. Unfortunately, Golden's actions indicate he may have difficulty in fulfilling his role as an officer of the court, but we do not believe his presently determined malfeasance should cause disbarment. We therefore approve the referee's findings that Golden violated the terms of his ninety-day suspension. As penalty therefor Golden is suspended as a member of The Florida Bar for one year and thereafter until he has proved that he is rehabilitated. This suspension is to begin thirty days from the date this opinion is filed, thereby giving Golden time to notify his clients and close out his practice. He shall accept no new business during that thirty-day period. He is enjoined from practicing law until reinstated. Judgment for costs in the amount of $1,271.86 is hereby entered against Golden, for which sum let execution issue. It is so ordered.
EHRLICH, C.J., and OVERTON, McDONALD, BARKETT, GRIMES and KOGAN, JJ., concur.
SHAW, J., recused.

Bill Warner Private Investigator Sarasota SEX, CRIME CHEATERS & TERRORISM at www.wbipi.com