FROM THE UNDERGROUND PRESS:
The most common symbol utilized by Black Bloc anarchists is the "Anarchy A" which is composed of a capital letter "A" within a circle.
"Resist the 2016 Cleveland RNC". The Republicans will be at the Quicken Loans Arena in Cleveland, Ohio July 18-21. It isn't about the Republi-crats — it's about rejecting their whole system of corporations, hierarchy, greed, centralization, militarization and media distraction.
Resist the 2016 Cleveland RNC is a "peaceful and non-violent coalition" of individuals (Black Bloc)) and organizations dedicated to resisting the efforts of the Republican National Convention and expressing to them and the world a message of Equality, Liberty and Environmental Responsibility. Many different people from many different movements are rallying around this coalition, join us. Lend your voice to the chorus of change.
POLICE LOG: In hindsight, and from a certain skewed perspective, the roots of the modern-day anarchist such as the Black Bloc could appear noble and utilitarian, viewed as a righteous struggle for the common worker versus the heartless capitalistic machine. However, when the typical criminal anarchists today stand face-to-face with helmeted police forces at political conventions or international financial summits armed with urine-filled water guns and surreptitious boxes of broken glass ready for throwing; they are far removed from their roots. A nefarious subset of anarchists, the Black Bloc, simply seek to destroy property and often injure police forces.
Such people have hijacked the traditional celebration of "May Day" or "International Workers' Day" on May 1 each year, and its historical significance has been lost. It is now a day of mayhem and havoc wreaked by criminal-minded anarchists across the country. Today, proactive urban police departments plan for and execute sophisticated surveillance and monitor such demonstrations in order to mitigate problems. The criminal-minded anarchist mantra of "FSU" (Fxxk Shit Up), used as a unifying rallying cry and often seen in anarchist graffiti and signage, testifies to the malevolent intentions of some modern-day anarchists.
To effectively identify criminal anarchists among authentic protestors and demonstrators, officers need to know their common traits and physical identifiers. The most common symbol utilized by Black Bloc anarchists is the "Anarchy A," which is composed of a capital letter "A" within a circle. Officers may see this image in the form of graffiti, but more often as a body tattoo. Another common criminal anarchist tattoo consists of the letters "ACAB," which stand for All Cops Are Bastards. The black flag of anarchy also advertises the presence of criminal anarchists. The flag may appear as solid black or as a red and black divided rectangle, often hoisted in the air on flag sticks amid protesting crowds.
The more dangerous criminal anarchist rioters can assault police security forces, and then easily blend back into the mob and disappear. Even when viewing video surveillance footage after a criminal riot and attempting to determine the problematic catalysts for the criminality, officers can have difficulty differentiating one anarchist from another.
Criminal anarchists also often wear dark-colored bandanas tied loosely around their necks, which can be used as makeshift gas masks to rebuff chemical munitions should they be deployed by police. These facial coverings also conceal the wearer's identity.
Criminal anarchists normally attempt to comingle in genuine protest demonstrations, and are known to wear their "Black Bloc" monochromatic uniform underneath outer clothes, so as not to immediately stand out in the crowd. Officers should also scan for backpacks, which may conceal containers of broken glass, acid-filled projectiles for throwing, or cans of spray paint for vandalism.
On May 1st, 2012, the FBI announced that 5 members of Occupy Cleveland Black Bloc were arrested for attempting several acts of terrorism, see the photos of the dirtbags above, including the detonation of what they thought was an explosive device in an effort to destroy a local bridge, as well as an attack on the Federal Reserve Bank. The FBI arrested 5 #Occupy Cleveland Black bloc protesters for plotting to blow up the Cuyahoga Valley National Park Bridge The alleged terrorists repeatedly tried to blow up the bridge using C4 and cellphones.
Three of the dirtbag suspects had references to Occupy Cleveland on what appeared to be their Facebook pages. Brandon Baxter , Joshua Stafford and Tony Hayne all said on Facebook that they worked at #OccupyCleveland and live in Cleveland, Ohio.
I have extensively written and posted warnings about the violent Black Bloc faction that hides within the Occupy Movement, especially in

T

ampa and

C

leveland;
1). Occupy Movement Targets 2012 Tampa RNC With "Black Bloc", Occupy Bomb Plots In Cleveland and Chicago Defused, Cops Need to Monitor Occupy Tampa and Sarasota Websites. 10 Occupy "Black Bloc" members who have been arrested in the last couple of weeks on terror charges, they are,

Brandon Baxter, Anthony Hayne, Joshua Stafford, Connor Stevens and Douglas Wright

who stand accused of

plotting to blow up a bridge

over Cuyahoga Valley National Park in Sagamore Hills, they are members of Occupy Cleveland. In Chicago Occupy Black Bloc members

Brian Church

, 20, of Ft. Lauderdale, Fla.,

Jared Chase

, 24, of Keene, N.H.,

Brent Vincent Betterly

, 24, of Oakland Park, Fl,

Sebastian Senakiewicz

, 24, of the 3600 block of North Odell Avenue Chicago and

Mark Neiweem

, 28, of the 2200 block of West 18th Place on the Lower West Side Chicago were arrested on Terrorism charges for plotting to blow up

President Obama

's campaign headquarters, Mayor

Rahm Emanuel

's house and police stations with Molotov cocktails and kill cops, "did you ever see a cop on fire LOL".
2).

Occupy Movement Terrorists to Target Bridges and Ships in Tampa During Upcoming Riots at Republican National Convention August 27 – 30, 2012

. Don't think for one minute that the violence and bomb plots that happened in Seattle and Oakland and Cleveland and Chicago by the Occupy Movement will not happen in Tampa during the RNC. These Occupy goons will have the whole world watching during the RNC in Tampa the week of August 27th, and everybody knows how terrorists like a big TV audience when they blow things up.
3). Thursday, August 16, 2012. Black Bloc and New Black Panthers Plan August Surprise Terror Attack at Republican National Convention in Tampa. The uptick in chatter over pending violence at the Republican National Convention in Tampa by the Black Bloc and New Black Panthers has gone national and even the defenders of the Black Block, like Venice Fl author Daniel Hopsicker, should wake up and smell the tear gas.
4). Uptick in Anarchist Black Bloc Chatter Concerning Planned Violence at 2012 Tampa RNC Includes Setting Cops on Fire. According to Internet chatter and Youtube video postings a large group of 'Black Bloc' anarchists and radicals from Seattle, Oakland, Chicago, Cleveland and New York City has mobilized and formed what they call the "RNC Welcoming Committee," which will protest the Republican National Convention in Tampa starting August 26th, 2012, "Blood Will Flow in the Streets".
5).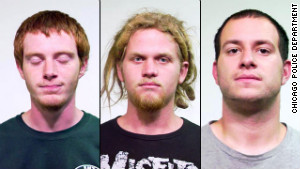 Three men charged with conspiring to commit domestic terrorism during the NATO summit were plotting to attack and fire bomb President Obama's Chicago campaign headquarters, the Chicago mayor's home and police stations, authorities said Saturday. A police investigation that began early this month revealed that the three suspects, Brian Church, 22, of Fort Lauderdale, Florida; Jared Chase, 27, of Keene, New Hampshire; and Brent Betterly, 24, Oakland, Fla., are "self-proclaimed anarchists" and members of the "Black Bloc" group who traveled together from Florida to Chicago to commit violence as a protest against the NATO summit, authorities said in a statement.
Bill Warner Private Investigator Sarasota SEX, CRIME CHEATERS & TERRORISM at www.wbipi.com