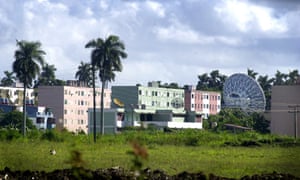 RUSSIAN AGENTS POUR INTO CUBA: Russia Reopens Signals Intelligence Spy Facility South of Havana And forgives 90% of Cuba's Unpaid Soviet-Era $32 Billion Debt While Obama Opens the Door to Cuba, what a fool for a President we have in the USA. Russia has quietly reached an agreement with Cuba to reopen a Soviet-era spy base on America's doorstep, amid souring relations between Moscow and Washington.
The deal to reopen the signals intelligence facility in Lourdes, south of Havana, was agreed in principle during president Vladimir Putin's visit to the island as part of a Latin American tour last week, according to the newspaper Kommersant.
Opened in 1967, the Lourdes facility was the Soviet Union's largest foreign base, a mere 155 miles from the US coast. It employed up to 3,000 military and intelligence personnel to intercept a wide array of American telephone and radio communications, but Putin announced its closure in 2001 because it was too expensive – Russia had been paying $200m (£117m) a year in rent – and in response to US demands.
After Putin visited Cuba, the Kremlin press service said the president had forgiven 90% of Cuba's unpaid Soviet-era debts, which totaled $32bn (£18.6bn) – a concession that now appears to be tied to the agreement to reopen the base.
HAVANA TIMES — Eyebrows went up everywhere on Tuesday (Jan. 20 2015) when a Russian intelligence ship docked in Havana on the eve of the diplomatic talks between Cuba and the United States. Its arrival had not been previously announced by either the Cuban or the Russian government.
It wasn't the first time that the Viktor Leonov had visited the Cuban capital. It had made similar unannounced stopovers in February and March of 2014. This week's arrival drew more attention. Was it a coincidence that it took place at such a watershed moment in Cuba-U.S. relations or was it an "in your face" gesture by Russian President Vladimir Putin to President Obama? Some observers saw it as a not-so-subtle reminder that Russia has made a major investment in Cuba and plans to hold on to its gains no matter what inroads the U.S. makes in Cuba.
Bill Warner Private Investigator Sarasota SEX, CRIME CHEATERS & TERRORISM at www.wbipi.com