It appears that Pamela Geller and her
American Freedom Defense Initiative
goons finally got what they have been pushing for, dead bodies in the street.

According to tweets from IS followers, the attack was carried out by jihadi militants loyal to the terrorist group.
Shariah is Light (@atawaakul) | Twitter

Elton Simpson https://twitter.com/atawaakul

The

latest Tweets from Shariah is Light (@atawaakul). 8th acct///Ahlus Sunnah/// News///We love hoor 24/7. -On a different tree branch.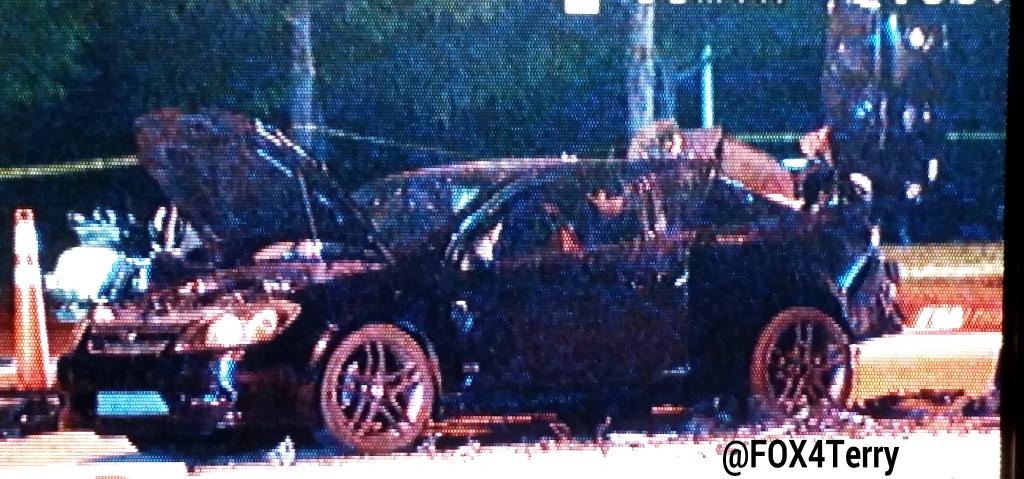 #

garlandshooting

Suspect's vehicle has what appears to be explosion damage. Deceased suspects still in street.

@

FOX4
An IS fighter from the UK tweeted - "2 of our brothers just opened fire at the Prophet Muhammad (s.a.w.) art exhibition in texas" and "They Thought They Was Safe In Texas From The Soldiers of The Islamic State," according to SITE Intelligence, an online watchdog of jihadist activities. One of the suspects in the shooting in Garland, Texas, late Sunday has been identified as Elton Simpson, an Arizona man who was previously the subject of a terror investigation, according to a senior FBI official. Overnight and today FBI agents and a bomb squad were at Simpson's home in an apartment complex in north Phoenix where a robot is believed to be conducting an initial search of the apartment. Officials believe Simpson is the person who sent out several Twitter messages prior to the attack on Sunday.
And the winner of the blood bath at the Draw Muhammad Contest in Garland TX is Bosch Fawstin, see drawing above.
Bosch Fawstin, the winner of the $10,000 prize at the Muhammad art contest, is a former Muslim, looks like thay even kicked in some extra cash to pump up the award to $12,500.
'Extreme free speech': Pamela Geller's group was behind the contest that awarded a cash prize of $10,000 for a drawing of Muhammad in Garland, Texas on Sunday. The 56-year-old blogger has made a name for herself with such headline-grabbing 'extreme free speech' tactics.
LA TIMES...Two gunmen were killed and a security guard wounded in an attack Sunday outside a controversial Dallas-area event where organizers were holding a contest for cartoons featuring the Muslim prophet Muhammad, police said, one was Elton Simpson who has priors; On January 13, 2010, a grand jury indicted Defendant Elton Simpson for knowingly and willfully making a materially false statement to the Federal Bureau of Investigation ("FBI"). The indictment also charged that the statement involved international and domestic terrorism. The indictment specified that on or about January 7, 2010, the Defendant falsely stated to special agents of the FBI that he had not discussed traveling to Somalia (Al-Shabaab), when in fact he had discussed with others traveling to Somalia for the purpose of engaging in violent jihad. The Government is charging Mr. Simpson with making a false statement in violation of 18 U.S.C. §1001. The Government is also charging that the false statement involves international or domestic terrorism as defined under section 2331, so that he is eligible for a sentence enhancement pursuant to 18 U.S.C. §1001. During the trial, the Government played some of the taped conversations between the informant, Dabla Deng, and the Defendant. One of these recordings was from July 31, 2007, more than two years before his indictment. In that recording, Mr. Simpson told Mr. Deng that Allah loves an individual who is "out there fighting [non-Muslims]" and making difficult sacrifices such as living in caves, sleeping on rocks rather than sleeping in comfortable beds and with his wife, children and nice cars. Mr. Simpson said that the reward is high because "If you get shot, or you get killed, it's [heaven] straight away." Mr. Simpson then said "[Heaven] that's what we here for...so why not take that route?" see

http://az.findacase.com/research/wfrmDocViewer.aspx/xq/fac.20110314_0000473.DAZ.htm/qx





The Muhammad Art Exhibit and Cartoon Contest, led by prominent conservative, Pam Geller, her photo above, who is critical of Islam, was ending when two men drove up in a car and began shooting at a Garland school security officer, Bruce Joiner, who was apparently helping protect the building, city officials said. The shooting in Garland, a suburb about 20 miles from Dallas, was preceded by messages from two social media accounts that expressed radical Islamic viewpoints.


One tweet, sent at 6:35 p.m., used the hashtag #texasattack. The user wrote, "May Allah accept us as mujahideen." Attendees at the contest didn't get word about the shooting until about 6:50 p.m. The gathering was organized by the American Freedom Defense Initiative, which is led by Pamela Geller, a well-known conservative political personality who has been harshly critical of Islam. Classified by the Southern Poverty Law Center as an anti-Muslim hate group, the AFDI was behind controversial ad campaigns last year. Its ads on buses in San Francisco cast the Israeli-Palestinian conflict as a "war between the civilized man and the savage." Geller is perhaps best known for her opposition to what critics called the "ground zero mosque," a cultural and prayer center that was to be built in New York about two blocks from the World Trade Center site.
Bill Warner Private Investigator Sarasota SEX, CRIME CHEATERS & TERRORISM at www.wbipi.com