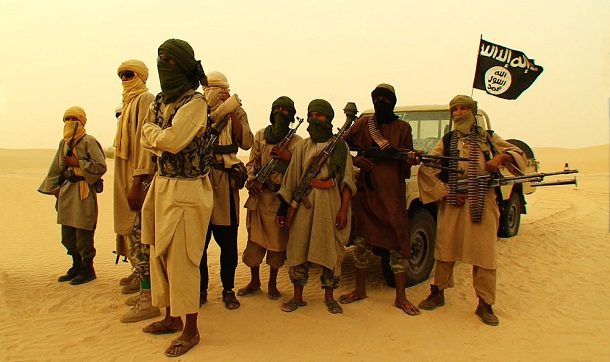 Al Qaeda's North African offshoot Al Qaeda in the Islamic Maghreb (AQIM) has its roots in Algeria has captured large chunks of territory in Mali and Mauritania.
The US believes Mauritania's geography - the country is essentially a difficult-to-patrol desert - poverty, and growing radicalism make it a potential haven for Muslim extremists. According to analysis by Jane's Defence Weekly, despite the shift of jihadist activity east toward Libya, "Mauritania is still an aspirational target for jihadist groups due to its military co-operation with France and Algeria." Jihadist groups including AQIM and the Mulathameen Brigade operate in the porous border areas between Mauritania, Algeria, Mali, Niger and Libya.
Al-Qaeda in the Islamic Maghreb (AQIM) is a jihadist terrorist group based in North Africa.
It is dedicated to dismantling regional governments and implementing shariah (Islamic law), primarily in Algeria, Mali, Mauritania, and Niger.
AQIM has executed scores of violent attacks aimed primarily at targets in North Africa and made failed attempts to target French landmarks. The
group is known for its de facto war with the French government, as well as its extensive history of kidnapping and extortion in Mauritania
. In 2013, AQIM was believed to have amassed at least $116 million in ransom money. It has been designated a terrorist organization by the U.S., the U.N., the U.K., Australia, Canada, and New Zealand.
Mauritania is Haven for Al Qaeda (AQIM) Muslim Terrorists Linked to 9/11 attacks in USA and

Benghazi, Libya

and the
Plot to
Hijack
an Airplane and Crash it Into Eiffel Tower.

Al-Qaeda in the Islamic Maghreb (

AQIM) predecessor is the Armed Islamic Group (GIA).
AQIM also has a central decision-making body, the Majlis al-Ayan (Council of Notables), hasNazim Fethi, "Al-Qaeda Leader El-Abbes Surrenders in Algeria," Magharebia, February 6, 2010, http://magharebia.com/en_GB/articles/awi/features/2010/06/02/feature-01.

x

its own media wing, Al-Andalus Media Productions, and a Sharia Council that governs Islamic legal matters.
December 24, 1994:

Al-Qaeda in the Islamic Maghreb
AQIM's predecessor Armed Islamic Group (GIA) hijacks Air France flight 8969,
with the objective of crashing the airplane into the Eiffel Tower in Paris. The plane is eventually diverted to Marseilles, where French commandos manage to free all but three passengers.
September 9, 2001: Two Tunisians of the Armed Islamic Group (GIA) the

predecessor to

Al-Qaeda in the Islamic Maghreb (

AQIM) sent to Afghanistan by bin Laden, pose as journalists and
assassinate Ahmad Shah Masoud, leader of the anti-Taliban Northern Alliance in Afghanistan
in conjunction with Al-Qaeda's September 11th attack on the USA.
April 11, 2007:
GSPC—now Al-Qaeda in the Islamic Maghreb (AQIM)
following a formal merger with al-Qaeda—carries out two deadly attacks: one suicide attack against the Prime Minister's office in Algiers and a second attack on a police station in the east of the capital. The attacks kill at least 30 and wound dozens.
May 31, 2009:
AQIM executes kidnapped British citizen Edwin Dyer
.
November 29, 2009:
AQIM kidnaps three Spanish aid workers in Mauritania
. The group releases all 3 workers on March 10, 2010, in exchange for a ransom payment between $6.3 million and $12.7 million from the Spanish government.
December 18, 2009:
AQIM kidnaps two Italian nationals in Mauritania
, holding them for 4 months before they are released on April 16, 2010.
September 11, 2012: According to the U.S. Senate Select Committee on Intelligence, individuals from
AQIM are among those who planned the attacks against the U.S. Consulate in Benghazi, Libya, that killed U.S. Ambassador Christopher Stevens.
December 3, 2012: General Carter F. Ham, Commander of U.S. Africa Command, says that
AQIM is operating training camps in northern Mali and aiding Nigerian terrorist group Boko Haram
by equipping it with weapons, explosives, and money.
March 19, 2013:
AQIM announces that it beheaded French hostage Philippe Verdon
, whom the group captured in November 2011, he is in center in photo above.
July 9, 2014:
French authorities thwart an AQIM plot to target the Eiffel Tower
, the Louvre and a nuclear power plant,

Al-Qaeda in the Islamic Maghreb (

AQIM) predecessor is the Armed Islamic Group (GIA).
November 29, 2009: AQIM kidnaps three Spanish aid workers in Mauritania. The group releases all 3 workers on March 10, 2010, in exchange for a ransom payment between $6.3 million and $12.7 million from the Spanish governmentNovember 29, 2009: AQIM kidnaps three Spanish aid workers in Mauritania. The group releases all 3 workers on March 10, 2010, in exchange for a ransom payment between $6.3 million and $12.7 million from the Spanish government"Al Qaeda in the Lands of the Islamic Maghreb," Terrorism Research & Analysis Consortium, accessed February 10, 2015, http://www.trackingterrorism.org/group/al-qaeda-lands-islamic-maghreb-aqim-salafist-group-preaching-and-fighting-see-separate-entry.

x
Bill Warner Private Investigator Sarasota SEX, CRIME CHEATERS & TERRORISM at www.wbipi.com