Dearborn MI USA Radical Cleric Ahmad Jibril is the New Online English-Speaking Jihadi Celebrity a la Anwar al-Awlaki, Samir Khan, and Abu Taubah Sending Fighters to ISIS and Al-Qaeda. 'Radical Clerics All', Ahmad Jibril, Anwar al-Awlaki, Samir Khan, and Abu Taubah aka Marcus Dwayne Robertson were/are all US citizens who have collaborated to form a huge online presence 'inspiring' would be terrorists all over the world. Fortunately, the CIA and DOD took out Anwar al-Awlaki and Samir Khna in September 2011 with a hellfire missle in Yeman and Abu Taubah has been in jail in Florida since September 2011 awaiting sentencing and possible additional terrorism charges on April 20th, 2015. Samir Khan and Abu Taubah have both threatened me in the past, with Sami Khan going as far as to post a Youtube video "Return of the Blog" to the death of private investigator Bill Warner, "May Allah Destroy Bill Warner.



Fox News Reporter Calls

Sarasota P.I. Bill Warner a

'Anti-Mulsim Extremist Activist'

As Terrorism Charges Loom for 'Ali Baba Marcus Dwayne Robertson'. I never heard that term before,

'Anti-Mulsim Extremist Activist'

, but I guess it fits my long history of shutting down violent Jihad websites and exposing terrorists living among us like

Al-Qaeda terrorist Samir Khan

in Charlotte NC who said "

May Allah Destroy the Kuffaar Bill Warner

". Marcus Dwayne Robertson, who called me out from Jail in December 2011 claiming The Prosecution is attempting to characterize me as a 'Teacher of Terrorists', Google Bill Warner/Marcus Robertson as he has an investigative company and an entire site dedicated to this case the FBI is using Bill Warner to set the tone.' was booked again (additional charges) in Orange County, FL on

11/12/2014 at the John E. Polk Correctional

Facility he was originally arrested and booked on a federal gun charge on 8/23/2001, he has been in jail since then with no bail.


Federal prosecutors are trying to pressure a Dearborn cleric popular with ISIS fighters from the West to answer questions about his finances, concerned that he might be getting money illegally. The U.S. Attorney's Office in Detroit said in recent court filings that Ahmad Jebril, 43, a religious leader with an international following, is deliberately not complying with the terms of his probation in his fraud case and misleading authorities about the sources of his money and assets. His attorney, Rita Chastang, said she fears that Jebril may be slapped with new criminal charges for lying to authorities, saying he's being subjected to an "unprecedented ... level of scrutiny" for a fraud case.




The federal government got a green light to use the "actions necessary" to collect a quarter of a million dollars in restitution owed by a Dearborn cleric who is popular with theIslamic militants who beheaded U.S. journalist James Foley and was banned from local mosques because of his fiery rhetoric. Ahmad Musa Jibril, 43, (aka Ahmad Jebril) owes $250,000 in restitution and costs related to fraud convictions that landed him in prison for 6½ years,the Detroit Free Press reports. He and his co-defendant father were convicted on 42 counts bank and mail fraud, failure to pay income tax and money laundering. Losses from their scheme, which involved deliberately vandalizing their rental properties so they could collect insurance money, amounted to $400,000. Since his release from the federal prison at Terre Haute, IN, in March 2012, Jibril has made only a small $2,790 dent in the obligation, the government said at a hearing earlier this month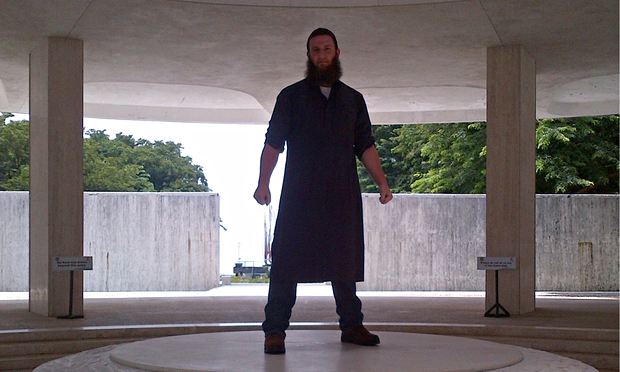 Details about Jibril's criminal past and growing influence as a cheerleader for ISIS were among those included in a report released in April by researchers at the
Centre for the Study of Radicalisation and Political Violence
at King's College in London. The researchers – three security experts affiliated – concluded after their year-long study that "social media represents an essential source of information and inspiration" to militants, and the conflict in Syria may be the first in history in "in which a large number of western fighters have been documenting their involvement in conflict in real-time."
In Issue II of Inspire, dated Fall 2010,in an article titled "I am Proud to be a Traitor to America," Samir Khan wrote: "It didn't take a rocket scientist to figure out that I was al-Qaeda to the core." He went on to note, "I was about to officially become a traitor of the country I grew up in for most of my life. I thought about many of the possible effects it could have on my life; but whatever they were, I was ready for it. That's because I am an individual convinced that Islam's clam to power in the modern world is not going to be as easy as walking down a red carpet or driving through a green light. I am acutely aware that body parts have to be torn apart, skulls have to be crushed and blood has to be spilled in order for this to be a reality."
Sheikh Ahmad was born in the United States, and spent part of his childhood in the city of Madina in the Kingdom of Saudi Arabia when his father, Sheikh Musa Jibril, was a student at the Islamic University of Madina. It was there where Sheikh Ahmad also became Hafidh al Qur'an at the age of 11. Sheikh Ahmad then spent the rest of his younger years back in the United States graduating from high school in 1989. Thereafter, he studied at the Islamic University of Madina as his father did, and graduated with a degree in the Shari'a. He returned to the United States and finished his JD/LLM (masters of law) degree from Michigan law schools. Jibril has a history of making what prosecutors said were extremist comments, dating to at least 1995, according to a 2005 sentencing memo from the U.S. Attorney's Office in Detroit. In November 1995, he sent a fax to CNN praising the bombing by terrorists of a building in Saudi Arabia used by U.S. military and civilian personnel, prosecutors wrote. The blast killed four Americans.
On a radical website he operated, "Ahmad Jebril encouraged his students to spread Islam by the sword, to wage a holy war, to hate and kill non-Muslims," prosecutors said in the memo. In his sermons and articles, Jibril makes anti-Shia comments and tells Muslims not to mix with non-Muslims. "If the West or their slaves are pleased with you, then something is seriously wrong with you," he once said. Jibril was kicked out of two mosques in metro Detroit for his radical views, according to a 2006 article in Beliefnet cited by the report.
Bill Warner Private Investigator Sarasota SEX, CRIME CHEATERS & TERRORISM at www.wbipi.com