Abdullah Ramo Pazara (on L) in Syria with ISIS terrorist pals.
PLAINFIELD, Ind. (WISH) – New details were revealed Friday surrounding the investigation that led up to the arrest of a man with suspected ties to ISIS and al Queda in Central Indiana earlier this month.
FBI agents took 26-year-old Nihad Rosic into custody outside an unnamed business along Ronald Reagan Parkway in Plainfield on Feb. 6 following nearly two years of surveillance. Rosic is one of six Bosnian nationals who immigrated to the U.S. that are now accused in court documents of providing support to terrorist organizations in the Middle East.
Prosecutors say the group used PayPal and Western Union to wire at least $19,348 to known terrorist Abdullah Ramo Pazara in Syria. Abdullah Ramo Pazara traveled from St Louis on 5/28/2014 to Syria to fight for ISIS.
One of the men they were allegedly helping, a man accused of fighting for the Islamic State used to live in St. Louis. The Department of Justice indicted Abdullah Ramo Pazara, his photo above, who is alleged to have traveled from St. Louis to Zagreb Croatia in May 2013 and then made his way to Syria to fight with terrorist aligned with ISIS.

Abdullah Ramo Pazara his photo above (ctr) with ISIS pals.
Charged in the indictment are: RAMIZ ZIJAD HODZIC, his wife SEDINA UNKIC HODZI and ARMIN HARCEVIC, all of St. Louis County, Missouri; NIHAD ROSIC of Utica, New York; MEDIHA MEDY SALKICEVIC of Schiller Park, Illinois; and JASMINKA RAMIC of Rockford, Illinois. All defendants are charged with conspiring to provide material support and resources to terrorists, and with providing material support to terrorists. Ramiz Zijad Hodzic and Nihad Rosic are also charged with conspiring to kill and maim persons in a foreign country.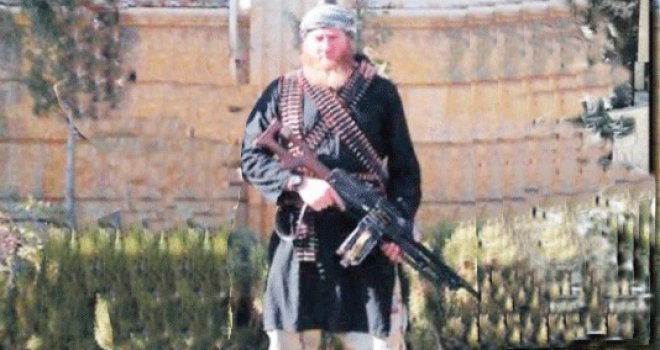 Terrorist Abdullah Ramo Pazara in Syria with 'heavy' weapon.
Agents working inside Indiana's Fusion Center monitor many different types of electronic communications, from cell phone tracking to satellite transmissions. But, court documents show it may have been something as simple as Facebook posts that gave the group away.
"That is not uncommon," said private investigator Tim Wilcox, of Indianapolis based International Investigators, Inc. "Any time we do a due diligence investigation on someone, we do a social media deep dive. People post a lot of things that they regret later on."
Wilcox says the federal government's biggest challenge was likely deciphering those posts. Court records show the group used code words for people and places that had to be cracked, similar to the work local police and some of Wilcox's associates do with known street gangs.


Photo above of RAMIZ ZIJAD HODZIC.
"We have to have a thesaurus to convert the gang street language to English, the same way the counterterrorist investigators are doing with the ISIL language. The FBI has some extremely skilled specialists that know all the language. They may have infiltrated other groups. So, they have all that inside information."
But, piecing the case together likely hinged on something more simple, Wilcox said: access to the suspects' cell phones.
"Smart phones now have more technology than mainframe computers had 15-20 years ago, and it's so easy to put spyware on somebody's cell phone without their knowledge. That's why the federal government has to have a court order. And, to get a court order, they have to have sufficient probable cause to go to a federal judge and get the judge to sign off on the order. So, they must have had sufficient indication, and sufficient probable cause to get into this in the first place," he said.
One popular way of downloading valuable intelligence data from a cell phone without a suspect's knowledge is known as stegonography, he added.
"Stegonography is where you can imbed in a photo all kinds of information. It's a form of spyware. You can send someone a picture that has stegonography imbedded, and if they click on the picture and open it, it installs the spyware on their phone. And, that could be the way the feds attacked this," Wilcox said.
Though electronic surveillance measures helped make the case, Wilcox cautions the fight is far from over.
"The bad guys are getting more sophisticated and making it more difficult," he said. "So, our counterterrorist effort has to be just as good and better."
Supplementary court documents filed in the case in Missouri this month show it already involves thousands of documents, wire taps, search warrants and U.S. Mail interceptions. Preparing all of that for trial could take months or even years. If convicted, each of the suspects faces up to life in federal prison.
Bill Warner Private Investigator Sarasota SEX, CRIME CHEATERS & TERRORISM at
www.wbipi.com