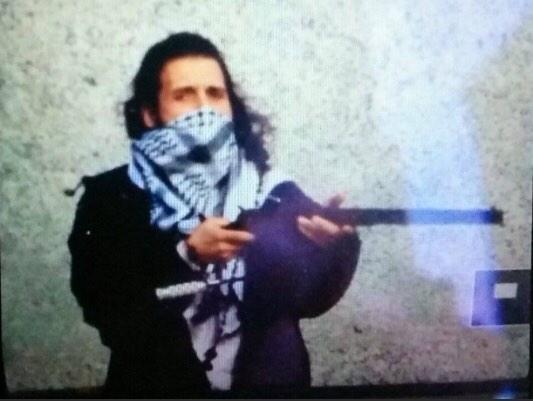 Canadian Muslim Terrorist Michael Zehaf-Bibeau, photo above, who was killed yesterday in a shootout with security in Parliament, steps from where Prime Minister Stephen Harper was addressing his party.
Just after Bibeau's name was reported, an ISIS Twitter account posted the above picture claiming it was the Ottawa shooter. An hour later, the account was suspended the same Twitter account was followed by
Martin Couture-Rouleau.
On October 20, Rouleau killed a Canadian soldier by hitting him with his car. Rouleau was a recent convert to Islam and told a 911 operator that he performed the act in the name of Allah.
Canadian Muslim Terrorist Michael Zehaf-Bibeau was born Michael Joseph Hall and changed his name after converting to Islam. Dave Bathurst
told The Globe and Mail
that Zehaf-Bibeau spent time in Libya, where his father fought in 2011, before moving to Western Canada to work as a miner and laborer. According to The Globe and Mail, Michael Zehaf-Bibeau was recently deemed a "high-risk traveler" by the Canadian government, and his passport was confiscated. A U.S. law-enforcement official
told CNN
that he has visited the United States at least four times, most recently in 2013.
Martin

Couture-Rouleau, photo above, had been considered some kind of threat by the Canadian government. And as details began to emerge about the 25-year-old, who had a pressure-washing business registered in Quebec, they began to paint a picture of a man who

seemed to have embraced extremist ideas, and who, according to one friend, dreamed of dying as a martyr.
Stockwell Day, Canada's former minister of public safety,
told the Daily Beast
that intelligence suggests Zehaf-Bibeau and Couture-Rouleau, photo above, visited the same jihadist websites. "It is likely there is a digital trail that suggests they accessed some of the same internet chat rooms and websites," he said. "It appears the [Parliament Hill shooter] was using some of the same networks as the killer [from earlier this week], who killed an Army officer … And it was interesting that ISIS apparently, or a source identifying themselves as ISIS, had a photo out of this guy in pretty short order."
Bill Wa
rner Sarasota Private Investigator, SEX, CRIME, CHEATERS & TERRORISM at
www.wbipi.com