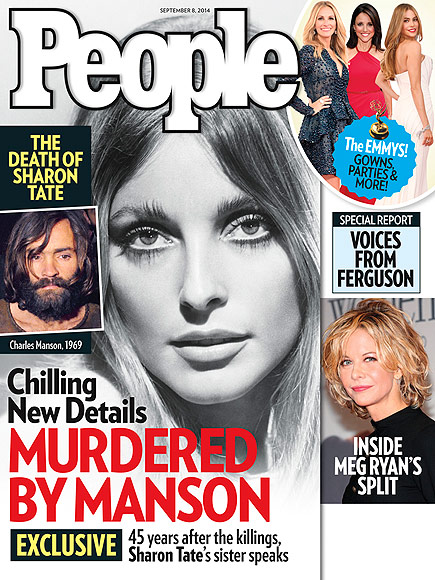 Sharon Marie Tate was a star on the rise. The studios were grooming the 26-year-old California blonde to be the next Marilyn Monroe. She was married to acclaimed film director Roman Polanski and was on the verge of giving birth to their baby boy. But on Aug. 9, 1969, she and four others were found brutally murdered inside her Los Angeles home, the victims of a horrific plan by cult leader Charles Manson and his followers to start a race war they called "Helter Skelter."
The killings terrorized the country, turning many of the people involved – including Manson – into household names. Even 45 years later, Tate's sister Debra, who was 16 at the time of the murders, continues to live with the anguish. "I didn't ask for this job or position, neither did anybody else from the survivors' families," Debra, now 61, tells PEOPLE in this week's cover story, Friday August 29th, 2014. "There's no benefit financially or mentally or emotionally. But it is what it is." "They're nothing special. They're just little creeps," she says about Manson and his followers, who are all serving life sentences in prison. "They're nothing that should be regarded in any way, shape or form. What should be regarded are the people that were lost. They were truly magnificent people."
LAPD Probing Charles Manson Family Link To 12 Unsolved Homicides as Helter Skelter Continues To Be Exposed.
Charles Manson is an insane sociopath and I have no doubt that this crazed killer, Charles Manson, and his followers of whores, pimps and drug dealers are responsible for the 12 unsolved murders that the LAPD is looking at and many, many others buried in mass graves in the desert.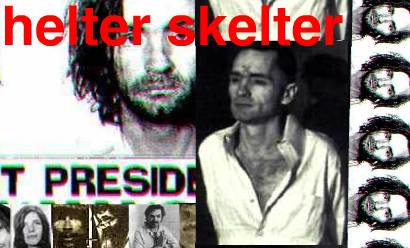 Helter Skelter would begin, according to one of Charles Manson's devotees, "with the black man going into white people's homes and ripping off the white people, physically destroying them. A couple of spades from Watts would come up into the Bel Air and Beverly Hills district…and just really wipe some people out, just cutting bodies up and smearing blood and writing things on the wall in blood…all kinds of super-atrocious crimes that would really make the white man mad…until there was open revolution in the streets, until they finally won and took over. Then the black man would assume the white man's karma. He would then be the establishment…"
PHOTO CHARLES MANSON AND TEX WATSON
LA TIMES…..The Los Angeles Police Department disclosed Thursday
October 18th, 2012, that it has open investigations on a dozen unsolved homicides that occurred near places where the Manson family operated during its slew of murders four decades ago. The Police Department made the revelation amid a legal battle to obtain hours of audio tapes recorded in 1969 between Charles Manson follower Charles "Tex" Watson and his attorney. The LAPD has said detectives believe tapes could shed more light on the activities of Manson's group.
Sharon Tate, the wife of director Roman Polanski, was 8½ months pregnant when she was killed at the couple's hilltop home in Benedict Canyon on Aug. 9, 1969. Polanski was out of the country working on a film. Besides Tate, four others were stabbed and shot to death: Jay Sebring, 35; Voytek Frykowski, 32; coffee heiress Abigail Folger, 25; and Steven Parent, 18, a friend of Tate's caretaker. The word "pig" was written on the front door in blood. The next night, Manson rode with his cohorts to the Los Feliz home of Leno and Rosemary LaBianca, then left three of them to commit the murders. "Death to pigs" was written on a wall, and "Healter Skelter," which was misspelled, was written on the refrigerator door.
Bill Warner Sarasota Private Investigator, SEX, CRIME, CHEATERS & TERRORISM at
www.wbipi.com