US State Department Alert Sunday July 27th, 2014: The potential for terrorist violence against U.S. interests and citizens exists in Morocco. Moroccan authorities continue to disrupt groups seeking to attack U.S. or Western-affiliated and Moroccan government targets, arresting numerous individuals associated with international terrorist groups. With indications that such groups still seek to carry out attacks in Morocco, it is important for U.S. citizens to be keenly aware of their surroundings and adhere to prudent security practices such as avoiding predictable travel patterns and maintaining a low profile. Establishments that are readily identifiable with the United States are potential targets for attacks. These may include facilities where U.S. citizens and other foreigners congregate, including clubs, restaurants, places of worship, schools, hotels, movie theaters, U.S. brand establishments, and other public areas. Such targets may also include establishments where activities occur that may offend (Islamic) religious sensitivities, such as casinos or places where alcoholic beverages are sold or consumed, see

http://travel.state.gov/content/passports/english/country/morocco.html
Al-Qaeda in the Islamic Maghreb Continues to Post Threats Aimed at Morocco as US Embassy is Evacuated in Algiers.

MARRAKESH, Morocco — The terrorist bomb that killed 16 people in a crowded tourist cafe in April 2011 was packed with nails and was set off remotely, most probably by a cellphone,
Morocco
's interior minister and security officials said. The bomb appeared to have all the hallmarks of
Al Qaeda in the Islamic Maghreb
, Interior Minister Taieb Cherkaoui said, briefing the government in Rabat. "The manner reminds us of the style used generally by
Al Qaeda
," he said. "And this leads us to think that there is a possibility of more dangers to come."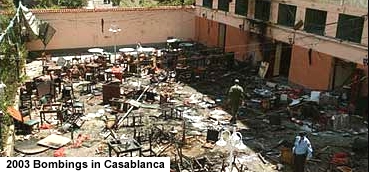 The 2003 Casablanca bombings were a series of
suicide bombings
on May 16, 2003, in
Casablanca
,
Morocco
. The attacks were the deadliest
terrorist
attacks in the country's history. 45 people were killed as a result of these attacks (12 suicide-bombers and 33 victims). The
suicide bombers
came from the
shanty towns
of
Sidi Moumen
, a poor suburb of Casablanca, and were from the
Salafia Jihadia
group.
Morocco terror risk spikes:
The deadly conflict now unfolding in Mali between armed Islamists and an international military coalition seems far removed from Morocco. But with al-Qaeda working to foster ties with distant extremist circles, the active recruiting of Moroccan jihadists brings the Mali crisis perilously close to the kingdom. In late December, the Moroccan judicial police broke up an al-Qaeda cell in Fez. The group's goal: to "enrol and recruit young Moroccans who have embraced jihadist ideas, in order to send them to al-Qaeda in the Islamic Maghreb (AQIM) camps", the interior ministry said.
Al-Andalus, the media branch of al-Qaeda in the Islamic Maghreb (AQIM), released a rather sophisticated and detailed video on Morocco titled "Le royaume de la corruption et du despotisme" (The kingdom of corruption and despotism) on September 12, 2013. The video mixed a series of elements, from Wikileaks cables to TV reports, to present a harsh set of accusations against Moroccan King Muhammad VI. Communications Minister and government spokesman Mustapha al-Khalfi said that the AQIM broadcasting was an "attempt to undermine the Moroccan model". Morocco has been targeted by major terrorist attacks in the past, the most recent being an April 2011 attack in Marrakesh, in which a remote controlled bomb detonated in Jamaa al-Fna square, killing 17 people and injuring 20 more.
Bill Warner Sarasota Private Investigator, SEX, CRIME, CHEATERS & TERRORISM at
www.wbipi.com