Sajeel Shahid aka Sajil Shahid a terror suspect who trained the ringleader of the 7/7 terrorist bombings in London has been allowed to set up an Islamic primary school, teaching children as young as three,
The Mail on Sunday can reveal. As a member of a banned extremist group al-Muhajiroun, Sajeel Shahid, 38, called for violence against British troops and ran a training camp in Pakistan where known terrorists learned how to make bombs and fire rocket- propelled grenades.
One of Sajeel Shahid's 'graduates' was Mohammed Siddique Khan, who led the gang of four suicide bombers on the deadliest terrorist attack ever committed in Britain, killing 52 people on the London Underground and a bus on July 7, 2005. Shahid also allegedly trained four convicted terrorists who tried to blow up the Bluewater Shopping Centre in Kent and London's Ministry of Sound nightclub in a foiled plot. The jihadist Sajeel Shahid – who was raised in Britain but spent years in Pakistan after the 9/11 attacks – was detained for three months in 2005 by the Pakistani security forces over his suspected links to Al Qaeda. Sajeel Shahid aka Sajil Shahid had been running the Pakistan branch of the banned British extremist group Al-Muhajiroun. After his detention he was expelled from the country.
Just how stupid are the Brits for allowing known terrorist Sajeel Shahid aka Sajil Shahid directly linked to Al-Qaeda and al-Muhajiroun to open a primary school for potential kid suicide bombers, what the hell?
Muslim fanatic Sajeel Shahid who trained 7/7 bomber sets up Islamic PRIMARY SCHOOL in Britain, UK/USA Terror Connection Mohammed Junaid Babar to Sajeel Shahid exposed by PI Bill Warner in 2005. On September 10th, 2005 I had accompied a BBC News crew led by investigative reporter Richard Watson to the Islamic Center of Queens aka Masjid al-Fatima (see video here) in search of links to al-Qaeda terrorist Moahmmed Junaid Barber and Sajeel Shahid. In 1999 according to Richard Watson on BBC's Newsnight - Omar Bakri Mohammed wanted to expand Al Muhajiroun's operations. He sent an envoy to New York, called Sajil Shahid. It was in New York that Shahid, a Dutch/Pakistani, met Mohammed Junaid Babar, whose testimony would later help to convict the Operation Crevice members. In New York in the mid-1990s, the Queens Islamic Center, based at the Masjid al-Fatima on 37th Avenue, Woodside, had been taken over by radicals from Hizb ut-Tahrir.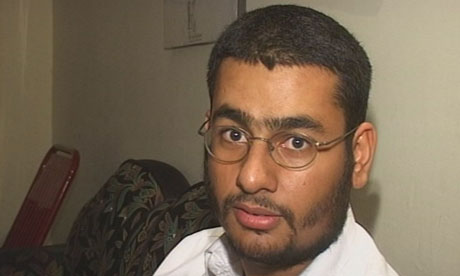 PHOTO ABOVE Mohammed Junaid Babar.
From June 2nd to June 4th, 2000, there was a meeting at the Masjid al-Fatima mosque, with
lectures given by Sajil Shahid
and also American Al-Muhajiroun member Syed "Fahad" Hashmi, who was arrested at London's Heathrow airport on suspicion of providing cash and military equipment for al-Qaeda terrorists.
See communique from Hizb ut Tahrir posted on the Muttaqun website below, June 2000—
ALMUHAJIROUN-USA
With Co-operation of Masjid Al-Fatimah 57-16 37th Ave.
Woodside,Queens. N.Y. (U.S.A)
718-803-XXXX 917-730-XXXX –Cell Phone
WE INVITE YOU, YOUR FAMILY, AND YOUR FRIENDS TO JOIN US FOR OUR 3 DAY CONFERENCE.
The Role of The Muslim Ummah in America
Friday June 2
From: Maghrib till Midnight
* INTEGRATION Abu Umar (Al-Muhajiroun in United States)
* JIHAD VS. TERRORISM Br. Fahad (Member of Al-Muhajiroun)
* IMAN CALLS FOR ACTION Br.

Sajeel Shahid (Member of Al-Muhajiroun U.K. branch)
Saturday June 3 From:
Maghrib till Midnight
* WHO ARE THE REAL TERRORISTS? Br. Rawad (Member of Al-Muhajiroun)
* ILLS OF CAPITALISM

Br. Sajeel Shahid (Member of Al-Muhajiroun U.K. branch

)
Sunday June 4 From: Maghrib till Isha
* MAINTAINING OUR ISLAMIC IDENTITY Br. Nisaar (Member of Al-Muhajiroun)
* ISLAMIC STATE: THEORY OR PRACTICALITY?

Sajeel Shahid (Member of Al-Muhajiroun U.K. Branch

)
ALL ARE WELCOME TO JOIN OUR QUESTION AND ANSWER SESSION. Refreshments will be served!!
"O you believe answer the call of Allah(swt) and His Messenger(saw) to that which gives you Life."(8:24)
"

Remember there is NO Life or Dignity without Islam

!!! "
Bill Warner Sarasota Private Investigator, SEX, CRIME, CHEATERS & TERRORISM at
www.wbipi.com