Waad Ramadan Alwan and Mohanad Shareef Hammadi,
two Iraqi nationals,
were arrested in Bowling Green, Ky., after a two-year FBI investigation.
They were
indicted for allegedly providing assistance to Al Qaeda in Iraq
and attempting to send weapons overseas. The men were living in the United States and had been granted refugee status, despite their insurgency
activities in Iraq
and their role in attacking U.S. troops.
Waad Alwan has been charged with conspiracy to kill U.S. nationals, distributing information about explosives, conspiracy to use a weapon of mass destruction, attempting to provide material support to terrorists and conspiracy to transfer and possess weapons. Hammadi is charged with attempting to provide material support to terrorists and conspiracy to transfer and possess weapons.
Waad Alwan said he was helping support insurgents in Iraq
by smuggling weapons and money in used vehicles sent to Iraq.
They were USED CAR DEALERS. Waad Alwan said that he worked for groups that received money from Osama bin Laden and
was planning to send money and weapons to Al-qaeda in Iraq in secret compartments on cars.
There is a network of Muslim used car dealers in the USA and abroad that facilitates the support of terrorism through the transport of used vehicles to the Middle East.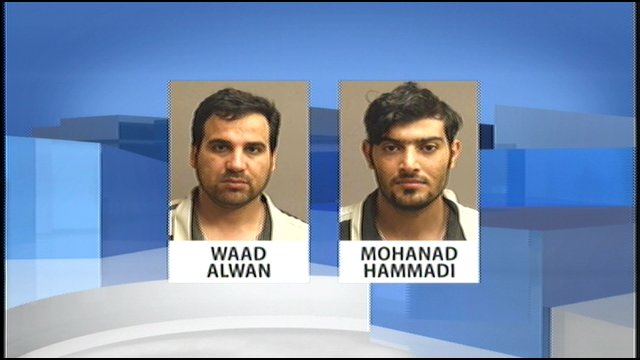 According to the charging documents, Alwan entered the United States in April 2009 and has lived in Bowling Green since his arrival. Hammadi entered the United States in July 2009 and, after first residing in Las Vegas, moved to Bowling Green.
There has been a network of Muslim Used Dealers sending vehicles to Iraq in support of terrorism since at least June of 2002, Waad Alwan was aware of this network and it appears that he had been on the receving end of the vehicles in Iraq since at least 2003 before he shows up in the USA in 2009.
T
he

FBI began to investigate Alwan in September 2009
, using an informant to obtain information about his involvement with the insurgency in Iraq. During one meeting with the FBI's informant, Alwan allegedly said that he was skilled with sniper rifles, adding that his "lunch and dinner would be an American [soldier]." Alwan also allegedly discussed how he would assemble bomb components and place roadside IEDs after curfew in Iraq.
Alwan allegedly was part of the insurgency from 2003 until May 2006,
when he was arrested by Iraqi authorities.
Waad Alwan stated that he used to procure explosives and missiles while an insurgent in Iraq since at least 2003; that his insurgent group conducted strikes daily; and that he used IEDs in Iraq hundreds of times. At one point, Alwan allegedly drew diagrams of four types of IEDs for the CHS and provided verbal instructions on how to build these devices. He also discussed occasions in which he had used these types of IEDs against U.S. troops. Asked whether he had achieved results from these devices in Iraq, Waad
Alwan said "Oh yes" that his attacks had "f–ked up" Hummers and also targeted Bradley fighting vehicles
in Iraq (killing US servicemen).
The FBI informant told Alwan that his boss had received funds from Osama bin Laden, and during a September 2010 discussion Alwan allegedly expressed interest in helping them provide support to terrorists in Iraq. The criminal complaint against Alwan alleges that the informant "told Alwan that a group he was affiliated with (NETWORK OF 150 MEN) planned to support the mujahedeen in Iraq by shipping them
money and weapons … by secreting them in hidden compartments in vehicles that were being shipped to Iraq
."
TAMPA SUNNI & SHIITE IRAQI USED CAR DEALERS LINKED TO THE SUPPORT OF TERRORISM, "THE CARS ARE THE CASH" AND THE FBI HAS KNOWN SINCE JUNE 2002.
There are numerous used car dealers in Tampa from Iraq and Gaza (Shiite) who are sending vehicles to the Middle East (Dubai) and then into Iraq in what appears to be in support of terrorism. The car smuggling appears to transcend Sunni and Shiite lines as both the Mahdi army and al-Qaeda in Iraq rely heavily upon profits from the vehicles to continue with their terrorist activity.
The secular Ba'athist regime in Syria works closely with Hizballah as a secular Ba'athist regime in Iraq has developed ties to al-Qaeda. It would be a mistake to assume that Islamist international terror groups are driven primarily by the religious associations with radical Sunni or radical Shiite Islam. These groups have their own geopolitical interests in bridging this great Islamic divide – particularly their antipathy for the United States and its allies.
Bill Warner Sarasota Private Investigator, SEX, CRIME, CHEATERS & TERRORISM at
www.wbipi.com