NY POST: "Not all the evidence from the JFK assassination is at the National Archives. One unique, macabre item from the collection is missing — President Kennedy's brain," writes James Swanson in "End of Days: The Assassination of John F. Kennedy," which comes out today Nov. 12, just a few weeks before the 50th anniversary of JFK's death. Conspiracy theorists have posited that the brain was stolen to conceal evidence that the president was shot from the front —(see video above) perhaps from the grassy knoll — instead of the official version of events, that the gunfire came from the rear, from the Texas School Book Depository.
The Rolling Stones made it very clear in their 'Sympathy For The Devil Lyrics', "Who Killed the Kennedys Well It Was You and Me". President John Fitzgerald Kennedy was murdered Friday November 22, 1963 in Dallas Texas at 12:30 pm CST, after first being struck in the neck with a bullet from the front in an almost horizontal position, the Zapruder film shows Kennedy clutching at his throat, and then Kennedy was supposedly shot from the rear as that bullet entered into the right side of his head and exited through his face on the right side, see video above, Warning Graphic Film.
Who Killed President John Fitzgerald Kennedy 50 Years Ago on November 22nd 1963, Well Everyone Did.
I have said for years, that everyone from the Mafia, to Cuban exiles, to the KKK and the CIA along with the military industrial complex wanted John Kennedy dead. Robert Fitzgerlad Kennedy, the brother of the slain president and the then Attorney General of the United States, had proof that the JFK assassin, Lee Harvey Oswald, did not act alone. So RFK, the then Attorney General who is head of the U.S. Justice Department and the Chief Law Enforcement Officer of the Federal Government has information that Oswald did not act alone and he is ignored and discounted, WTH?
In a blockbuster exclusive, The ENQUIRER has learned that a Cuban exile with ties to both the Mafia and the CIA confessed to being involved in a conspiracy to kill America's beloved 35th president.
The startling new evidence was uncovered by re­spected author Anthony Summers, who revealed the assassin's identity in an update to his classic 1998 book on Kennedy's slaying, "Not In Your Lifetime."
According to Summers, the second rifleman was Herminio Diaz Garcia a hired killer who worked for notorious Mafia boss Santo Trafficante Jr. in Cuba. Diaz executed a Cuban police chief in the late 1940s and likely committed 20 murders in his lifetime.
Two Hit Men: An author has claimed that Heminio Diaz (left), a Cuban exile, was also responsible for the assassination of President John F. Kennedy in 1963. Lee Harvey Oswald (right) was arrested for the killing.
Herminio Diaz Garcia was born in
Cuba
in 1923. He was a member of the Cuban Restaurant Workers Union and worked as a cashier at the Hotel Habana-Rivera. Later he became involved in illegal activities and eventually became a bodyguard for
Santos Trafficante
. Diaz Garcia killed Pipi Hernandez in 1948 at the Cuban Consulate in Mexico. In 1957 he was involved with an assassination attempt against President Jose Figures of Costa Rica. Diaz Garcia moved to the
United States
in July, 1963, where he worked for
Tony Varona
. Some researchers believe that Dia Garcia was one of the gunman who killed
John F. Kennedy
on 22nd November, 1963. In December, 1963, Dia Garcia was involved in an unsuccessful attempt to assassinate
Fidel Castro
. He was also involved in providing weapons to anti-Castro groups.
"
JFK ASSASSINATION WAS PLANED FOR TAMPA FL ON NOVEMBER 18TH 1963 BY TAMPA GODFATHER SANTOS TRAFFICANTE
".
Lamar Waldron the author of Ultimate Sacrifice: John and Robert Kennedy, the Plan for a Coup in Cuba, and the Murder of JFK
,
discovered that JFK and RFK had a never-before-revealed plan to stage a coup against Fidel Castro in Cuba on December 1st 1963. The CIA's code-name for their part of the plan–AMWORLD–has never appeared in print before, and was withheld from the Warren Commission and later Congressional investigating committees. As part of the coup plan, in the days and weeks before Dallas, Robert Kennedy even had a top secret committee making plans for dealing with the possible "assassination of American officials," in case Castro found out about the coup plan and tried to retaliate. However, the Kennedy's coup plan was infiltrated by three powerful Mafia bosses being targeted by Attorney General Robert Kennedy: Johnny Rosselli of the Chicago Mafia,
Tampa godfather Santo Trafficante
, and Carlos Marcello (godfather of Louisiana and east Texas).
Testimony of Gov. John CONNALLY, photo above seated directly in front of JFK…."I knew it when I just looked down and I was covered with blood, and the thought immediately passed through my mind that there
were either two or three people involved or more in this or someone was shooting with an automatic rifle
(bolt action rifle was found). These were just thoughts that went through my mind because of the rapidity of these two, of the first shot plus the blow that I took, and I knew I had been hit, and I immediately assumed, because of the amount of blood, and in fact, that it had obviously passed through my chest that I had probably been fatally hit"—the shot came from an elevated position to his right rear.
On 24th March, 1959, Carlos Marcello, his photo above, appeared before the Senate Committee investigating organized crime. Serving as chief counsel to the committee was Robert F. Kennedy; his brother, Senator John F. Kennedy, was a member of the committee. In response to committee questioning, Marcello again invoked the fifth amendment in refusing to answer any questions relating to his background, activities, and associates. After becoming president John F. Kennedy appointed his brother, Robert Kennedy, as U.S. Attorney General. The two men worked closely together on a wide variety of issues including the attempt to tackle organized crime. In March 1961, the Attorney General (RFK) took steps to have Marcello deported to Guatemala the country Marcello had falsely listed as his birthplace.
On 4th April 1961, Carlos Marcello, his photo above, was arrested by Federal authorities and forcibly removed to Guatemala by the Kennedys. Just before John Kennedy was assassinated on 22nd November, 1963, Jack Ruby, who killed Oswald, made contact with Carlos Marcello, and another Mafia leader, Santos Trafficante (who had plotted to kill JFK in Tampa on

11-18-63

), about a problem he was having with the American Guild of Variety Artists (AGVA). See JFK ASSASSINATION WAS PLANED FOR TAMPA FL ON NOVEMBER 18TH 1963 BY TAMPA GODFATHER SANTOS TRAFFICANTE, SEE VIDEO.
Jack Ruby also visited New Orleans that summer of 1963. So also did the alleged assassin, Lee Harvey Oswald. Carlos Marcello had a special grudge against the Kennedys because Robert Kennedy who fought organized crime once had him deported to an uncomfortable exile in Central America. Born in Tunisia, Carlos Marcello carried false papers that gave Guatemala as his country of origin. He found his way back to the United States after his deportation.
Carlos Marcello's biographer, John H. Davis, and journalist David E. Scheim made "compelling cases" for Marcello's involvement also in the killing of Robert Kennedy by Sirhan Sirhan.
Sirhan Sirhan links to Carlos Marcello
……Carlos Marcello had remained good friends with L.A. mobster Mickey Cohen since they both had appeared before the McClellan hearings. By 1968, Cohen was in prison, having waged a full-scale war with the Dragna family for control of the rackets in Los Angeles, including the major racetracks that were all hooked into the Carlos Marcello' s wire service and bookie network.
Sirhan Sirhan (his photo center), the killer of Robert Kennedy, worked as a groom at the Santa Anita race track controlled by Cohen
, who had also been a close friend of Jack Ruby, the gangster who shot Oswald dead. Ruby was part of the Civello set-up in Dallas that was controlled by Marcello. That Robert Kennedy's brother was himself shot dead in a city that was controlled by a close friend of Carlos Marcello, who was more than likely the immediate boss of the man who shot the man who shot the president, has to be surely more than just a coincidence.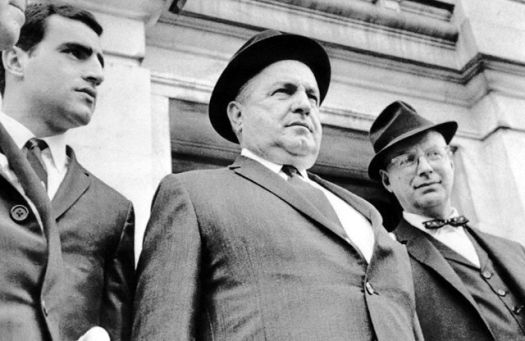 Carlos Marcello, a boss of organized crime, died March 3rd 1993 at his home in a suburb of New Orleans. He was 83. The Jefferson Parish Coroner's Office said it did not have the cause of death. Mr. Marcello, who had been in failing health for years, had been living in Metairie since his release from prison in 1989. He had a series of minor strokes in prison. Mr. Marcello's name had been mentioned in media accounts about the assassination of President John F. Kennedy in 1963. He was born of Italian parents in 1910 and was brought to Louisiana as a baby. Mr. Marcello, who was called Little Man because he was 5 feet 2 inches tall, became known in the New Orleans area in the heyday of open gambling in suburban Jefferson Parish in the 1940′s. He Fought Deportation Orders. By the 1950′s and 60′s, the police and national publications were calling him the head of organized crime in Louisiana and along the Gulf Coast, although he always insisted he was just a tomato salesman, LOL.
Bill Warner Private Investigator Sarasota Fl at
www.wbipi.com