WASHINGTON — When Sulaiman Abu Ghaith, a son-in-law of Osama bin Laden, was taken into American custody at an airport stopover in Jordan last month, he joined one of the most select groups of the Obama era: high-level terrorist suspects who have been located by the American counterterrorism juggernaut, and who have not been killed.

"I have heard it suggested that the Obama administration somehow prefers killing Al Qaeda members rather than capturing them," said John O. Brennan

, in a

speech

last year when he was the president's counterterrorism adviser; he is now the

C.I.A.
director.
An overwhelming reliance on killing terrorism suspects, which began in the administration of George W. Bush, has defined the Obama years. Since Mr. Obama took office, the C.I.A. and military have killed about 3,000 people in counterterrorist strikes in Pakistan, Yemen and Somalia, mostly using drones, see photo above.
This policy on targeted killing, according to experts on counterterrorism inside and outside the government, is shaped by several factors: the availability of a weapon that does not risk American casualties; the resistance of the authorities in Pakistan and Yemen to even brief incursions by American troops; and the decreasing urgency of interrogation at a time when the terrorist threat has diminished and the United States has deep intelligence on its enemies.
Consider the case of Anwar al-Awlaki and Samir Khan, the Yemeni-American cleric and internet propagandist who both had joined the al- Qaeda branch in Yemen. In September 2011, when American intelligence located him, it might conceivably have been possible to organize a capture by Yemeni or American commandos. But a drone strike was politically far less complicated for both countries, said Gregory D. Johnsen, an expert on Yemen at Princeton.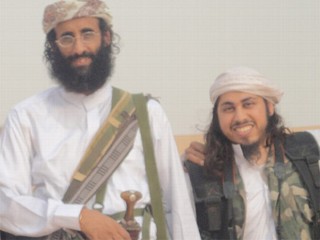 Samir Khan: Dead American Blogger and Al Qaeda Propagandist Who tried to Get Me Killed, Whose Laughing Now Dirtball. Samir Khan, was an Al-Qaeda operative and working directly under ANWAR AL-AWLAKI, he has been blown to bits along with his mentor Anwar Al-Awlaki in a Yemen drone attack orchestrated by the CIA and the DOD on September 30th, 2011.
Samir Khan did his best to get me killed with his video, wiped out, humiliated with a huricane sent by "Allah" but things did not work out for this dirtbag Samir Kahn like he wanted, they are still picking up pieces of his burnt flesh in Yemen.
Samir Khan, a Saudi-born man of Pakistani heritage who was a U.S. citizen, lived on Long Island before moving to Charlotte, N.C.,
where he began writing a pro-Al Qaeda blog from his parents' home. In 2009, he moved to Yemen to join the terror network in the Arabian Peninsula.
Posted on Samir Khan's website May 1st, 2009;
The blog is back
! Return of the blog!
http://revolution.thabaat.net/
(now shut down).
الحمد الله, after a brief halt, our blog has returned. The blog was not shutdown due to any hacks or infiltration or heavy traffic or server reports, rather it was shutdown on our own accord in order that we may move the servers. We apologize for the delay, however the move is successful and this will be permanent, In Sha' Allah.
The lying enemy of Allah, Bill Warner – may Allah destroy him
- claimed that he was the one who shut down our blog. Let this be a testimony that this disbeliever is a liar. May Allah send a hurricane over his house so that he can be wiped out, humiliated.
In addition, al-Thabaat forums are back up. Please visit the main page here. We have dedicated a
video, to the return of the blog
, to strike fear in the hearts of the Kuffaar (Bill Warner private incvestigator) and Munafiqeen. Please pass the message on, SEE
VIDEO CLICK HERE
.
Bill Warner Sarasota Private Investigator, SEX, CRIME, CHEATERS & TERRORISM at
www.wbipi.com